The US has imposed sanctions on senior officials in the International Criminal Court (ICC), including chief prosecutor Fatou Bensouda.

T

he secretary of state, Mike Pompeo, did not give any specific reasons for the move other than to say the ICC "continues to target Americans" and that Bensouda was "materially assisting" that alleged effort.
He also announced sanctions against Phakiso Mochochoko, the ICC's director of jurisdiction, complementary and cooperation division.
The
US Treasury issued a statement
saying Bensouda and Mochochoko had been deemed "specially designated nationals", grouping them alongside terrorists and narcotics traffickers, blocking their assets and prohibited US citizens from having any dealings with them.
In June, Donald Trump issued an executive order imposing sanctions on ICC officials involved in investigating Americans, in response to the court's decision to open an inquiry into war crimes committed by all sides in Afghanistan.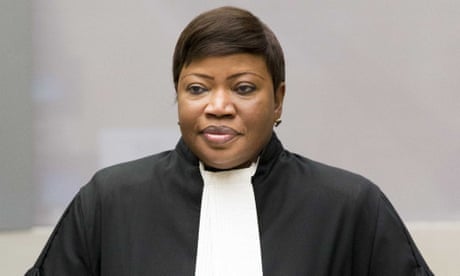 Senior ICC judges authorise Afghanistan war crimes inquiry



The US also opposes ICC scrutiny of potential Israeli crimes against Palestinians as part of an investigation that also looks at abuses carried out by Palestinian security forces
The ICC said: "These coercive acts, directed at an international judicial institution and its civil servants, are unprecedented and constitute serious attacks against the Court…and the rule of law more generally."
Richard Dicker, the international justice director at Human Rights Watch, said the announcement "marks a stunning perversion of US sanctions, devised to penalize rights abusers and kleptocrats, to persecute those tasked with prosecuting international crimes. The Trump administration has twisted these sanctions to obstruct justice, not only for certain war crimes victims, but for atrocity victims anywhere looking to the international criminal court for justice."
Created by a UN treaty in 2002, the ICC investigates and brings to justice those responsible for genocide, crimes against humanity and war crimes, intervening when national authorities cannot or will not prosecute.

The treaty has been ratified by 123 countries, including the UK. But the US - along with China, India and Russia - has refused to join. According to the ICC's legal process, the court can issue arrest warrants or a summons to appear once prosecutors have gathered sufficient evidence and identified suspects. From there, they will decided if there is enough evidence for a case to go to trial.
The United States is unique in also passing what is commonly known as The Hague Invasion Law. The American Service-Members Protection Act of 2002 is called so because it authorizes the U.S. President to use 'all means necessary and appropriate' to ensure that any US or allied personnel being tried by the ICC are released.